We love a good storage solution, whether it's kitchen storage or a bedroom wardrobe. And who doesn't! Beautiful pieces of furniture that not only give your home style, but give you practical functionality that's hard to go without.
As 2023 approaches (where did 2022 go…?) we're looking forward to new designs that we'll help bring to life for our lovely clients. Here are some of our favourite bespoke storage and wardrobe ideas for the year ahead!
Wine Storage Wall
Bottle storage always adds something luxurious and unique to a home, and this one is no different.
This open storage built straight into the wall certainly stands out and we love the practicality it offers by allowing you to simply reach for the bottles from the top.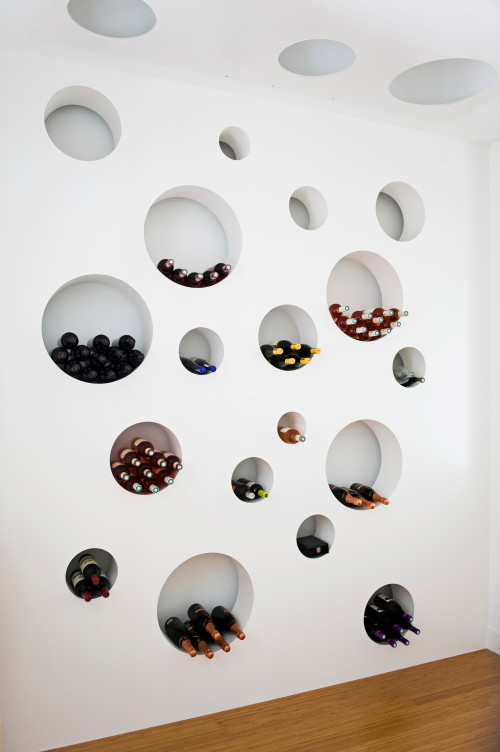 Monolith-Style Wardrobes
Perfect for contemporary spaces, big and bold wardrobes can look sleek yet powerful and impose a strong design aesthetic on your space.
If you've got the room and want a wardrobe or storage option that's certain to be noticed, this is a great option in 2023.
Kitchen Bookcases
Whilst they've been used for a while now to enhance kitchen units and kitchen spaces, we still don't come across them too often but they're a brilliant way to add something stylish and incredibly practical.
Bespoke bookshelves or bookcases can be built into the ends of kitchen counters, into the side of kitchen islands, or along the back of kitchen cabinets. There's no better way to store your cookbooks!
Storage As The Focal Point
It's common to find storage and wardrobes at the side of a room, or built into the wall to keep them more subtle. Don't get us wrong, they still look amazing and offer great solutions for keeping your storage neat and tidy, but why not try something a little different?
Use your storage requirements to create a beautiful piece of furniture that can become the focal point of your room and capture everybody's attention.
Hidden Storage
Maybe going bold with your storage isn't quite your style. That's the case for many who would rather keep their space on the minimal side. There are lots of ways you can create hidden storage that you'll hardly even notice once it's there which keep your rooms free of visual distraction.
Fitted wardrobes can be designed using doors that match your existing wall design to leave you with perfectly accessible storage that's seamlessly integrated with the rest of your room!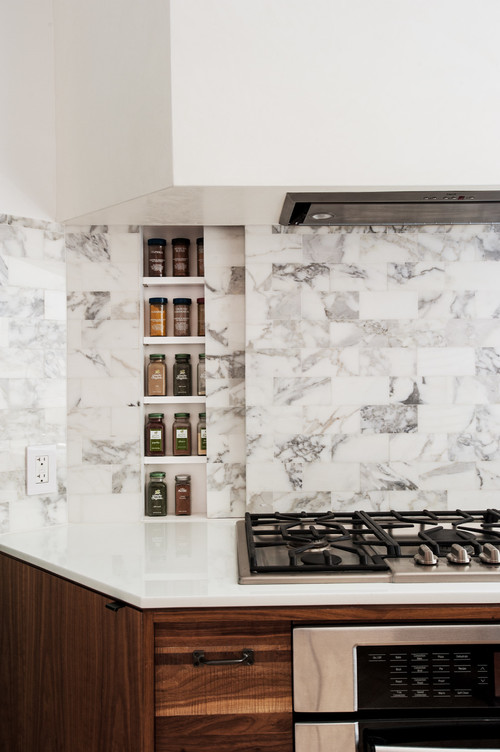 Internally Lit Wardrobes
One way to virtually guarantee that your wardrobe looks classy is to have it internally lit. Whilst you'll want to avoid the wrong the colours and brightness's to prevent it from looking overwhelming or tacky, the right lights inside your wardrobe can completely transform the way it looks!
Think about using warm and soft lighting to draw subtle attention to the different sections of your wardrobe like the image below. Internal lighting works great for both regular wardrobes and open-fronted wardrobes and can be particularly useful in rooms with poor natural lighting.
Play With Shapes
Using shapes within your wardrobe design is an easy way to give it something more. You could use the shape of your room and ceiling to create a unique storage setup that fits perfectly within the space.
Another great way to use shapes within your wardrobe design is by adding shaped doors if it's fitted, or creating the entire wardrobe to be shaped if it's free-standing. This might force you to get creative with the layout so that everything's still accessible, but it's well worth it for the added creativity of your new storage design!
Bespoke Wardrobes and Storage at Fitted Interiors by Lime
We're all about bespoke and we love creating beautiful storage and wardrobe solutions that are designed specifically for the spaces they're going in. We think there's no better way to improve a space than with a unique, custom design! If you're looking to improve your home throughout 2023 – whether you have an idea already or want help with finding inspiration – feel free to have a chat with us!